As an account administrator, you are able to subscribe and unsubscribe your authors from monthly analytics emails and Reader Highlight emails.
2. Click "Author Subscriptions" under the email section of the left navigation on your account management page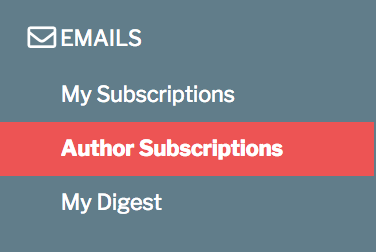 3. The next page will include a list of all your authors and the status of their Analytics and Reader Highlights email subscriptions.
If an author is subscribed, there will be a notation indicating this, including the subscription date, and a link to unsubscribe.
If an author is not subscribed, but would like to be, click the "Sign up now" link.Authors can also manage their own subscription to these emails, along with their daily digest, Trend Alerts, and Tip of the Week emails by loging in to their own accounts.
Related FAQs: