We ensure prospects, referral sources and media see your expertise everywhere. We:
Optimize each article
[Learn more]
We assign a content specialist to monitor your sites every day for new content to ensure it is published in a timely fashion.
Our editors categorize each individual post for inclusion in our resource centers and for targeted distribution.
Showcase your expertise to our direct audience [Learn more]
We feature your expertise on our home page, our resource centers, and in search to our more than 750,000 monthly site visitors.
We deliver your content to our opt-in subscriber base of over 500,000 industry and media professionals.
We promote your content to subscribers of our 90 subject specific media channels, which boast over 350,000 followers.
We include your content in popular editorial features.
Syndicate your content to partner associations & media [Learn more]
We make your content available in the multitude of resource centers that we power for: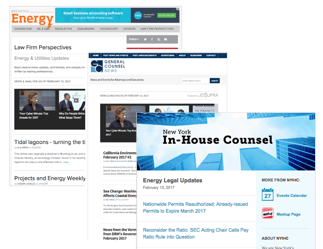 legal media and associations (e.g. General Counsel News and New York In-House Counsel Association);
industry publishers and associations (e.g. Breaking Energy and American Association of Public Insurance Adjusters);
role based associations (e.g. Society of Corporate Governance and Employers' Association of New Jersey)
mainstream news resources (e.g. Google News, Apple News)
Seamlessly deliver your latest updates to your network [Learn more]
We enable you to automatically update your social networks (LinkedIn, Twitter and Facebook) with your thought leadership as it's published, to quickly and effortlessly stay top-of-mind with your connections.
Mary Spadaro
Marketing & Training Manager
Barg Coffin
...our lawyers' articles are automatically shared with their LinkedIn connections in a network update as soon as they go live on JD Supra. In an era when content marketing is king, and speed is the name of the game — this kind of seamlessness is critical