[A writing tip for lawyers and other professional service thought leaders by Kara McKenna, Regional Business Development Director at JD Supra:]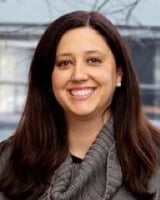 What's the ideal length for a blog post (or any legal thought leadership) online?
I am going to answer this oft-asked question by telling the story of engagement with a handful of posts on JD Supra:
1. Here is an update by Sheppard Mullin attorneys on a recent healthcare conference in Florida (HIMSS19), hosted by the Healthcare Information and Management Systems Society.
Shown below: the Senior Washington Counsel of the American Medical Association shared the update on LinkedIn, specifically quoting it for the reference to AI in the healthcare space.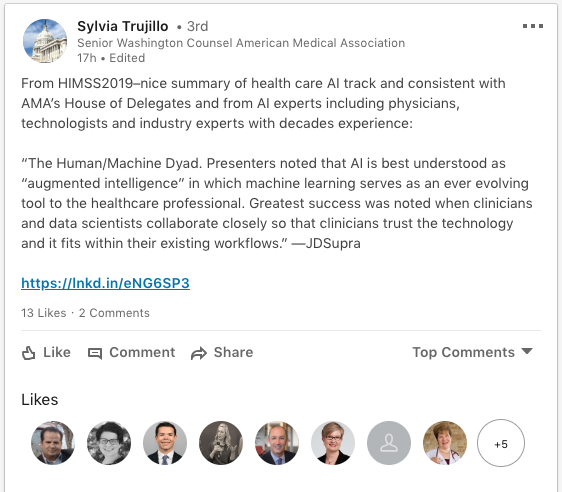 Included in the resulting conversation: a comment from a digital health and privacy attorney at Microsoft - as well as a slew of likes by VP and Officer level executives in the healthcare space.
File under: excellent visibility for the firm and attorneys who published this piece.
2. Here is an update by two Morgan Lewis attorneys on new legal frameworks for gender equality and equal pay in France.
Shown below: the post was referenced and linked to in a news story on the matter published by the HR Policy Association, "the lead public policy organization of chief human resource officers representing the largest employers doing business in the United States and globally."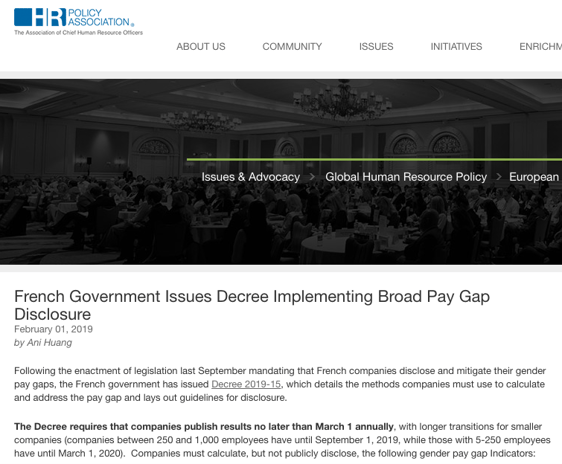 File under: another form of excellent, targeted visibility for the firm and attorneys who published this piece.
3. Here is an in-depth look at what to expect of workplace safety regulation in 2019, written by an attorney at Husch Blackwell.
The piece was shared on LinkedIn by the Chief Financial Officer at a New England-based construction firm (that creates state-of-the-art commercial and institutional spaces, urban multi-family and senior living communities, and select custom homes).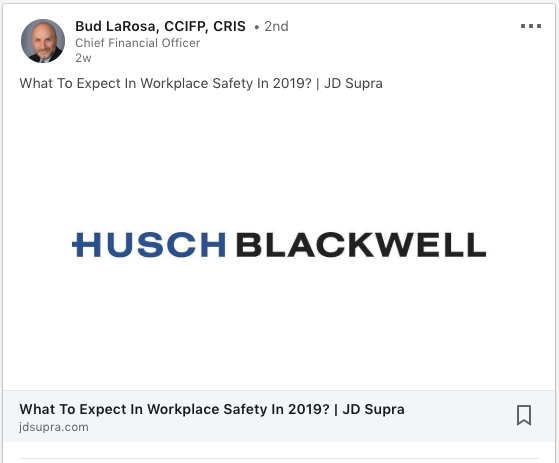 File under: you know where I am going with this. See above.
*
The first post mentioned above comes in at approximately 890 words.
The second: 1,ooo words.
The third: 1,500 words.
This post by an attorney at Verrill Dana, on the impact of the recent government shutdown on breweries, was shared on LinkedIn by the Executive Director and General Counsel of the Massachusetts Package Stores Association.
It comes in at just under 250 words.
Going back into the archive, here is a Littler summary of key 2018 labor & employment laws that at the time was shared by a manager in the compliance team at Foot Locker. The post was also included in our list of Popular Reads soon after publication.
It reaches 3,500 words and includes, wait for it, footnotes.
This post by Stefanie Marrone, on LinkedIn best practices, was praised/retweeted by the Assistant General Counsel at Microsoft. Length? Approximately 2,750 words.
*
Successful thought leadership that runs the spectrum from 250 words to 3,500 words
When it comes to writing to reach a target audience in the professional services space (especially when it comes to regulatory and compliance matters framed by our system of laws) most readers have a need to know.
Some matters are more complicated than others. Some require many more words to untangle those complications and communicate next steps.
I would argue that, in a vacuum, word count makes absolutely no difference to the success (as measured by engagement with target readers) of those posts above, and all the others on JD Supra.
Taking just one example, the authors of the first post I mentioned above capitalized on interest around an important healthcare conference, providing a recap that has clearly resonated with key people in the space. (The post is also being well discussed on Twitter, not just LinkedIn).
I would argue also that many of those most prominent and successful thought leaders on JD Supra write across the spectrum of length, sometimes publishing quick-hit news updates, other times taking their time to analyze a complicated issue that others care about. (See rockstar Linn Freedman for example.)
If you are building an editorial (and marketing) plan around your firm's content, set aside the question of word count
In the world of need-to-know information, the many thousands of posts published on JD Supra show that readers will stick with publications that help them understand what they need to understand.
Focus instead on what matters
...which, typically, is a blend of evergreen and timely responses to the concerns and questions of your clients and prospective clients.
Focus your efforts on understanding what people in the companies and industries you serve care about most. (Click this link to learn how to do exactly that.)
Then address those topics in the most helpful way you know how, no matter how many words it takes.
*
[Connect with Kara on LinkedIn to learn how JD Supra can help your firm's writers focus on what matters and engage with influential readers online.]