Dear Friends, Partners, and Clients—
I am thrilled to announce the 2022 JD Supra Readers' Choice Awards, recognizing 267 authors from among the approximately 65,000 who published on our platform throughout 2021! The awards also highlight 28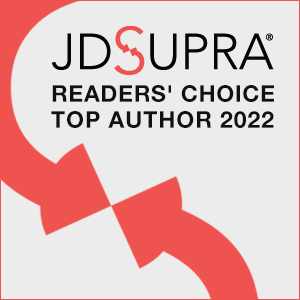 firms for their thought leadership visibility during the year.
These annual awards (in their seventh year now) recognize JD Supra contributors for the visibility and engagement their thought leadership earned among readers in select subjects during the previous twelve months.
If the notion still needed any proof, the last year showed once again that thought leaders on JD Supra play an essential role in making sense of issues of the day for readers in all walks of life.
With great pride in all of the excellent thought leadership on JD Supra, and the particular achievement of the authors and firms in this year's award categories, I send you onward to our 2022 Readers' Choice Awards.
I hope you are well and staying safe.
- Aviva Cuyler, JD Supra CEO
*Categories can change year to year; if you'd like to see a particular focus next year, please let me know. I'd be happy to hear from you.