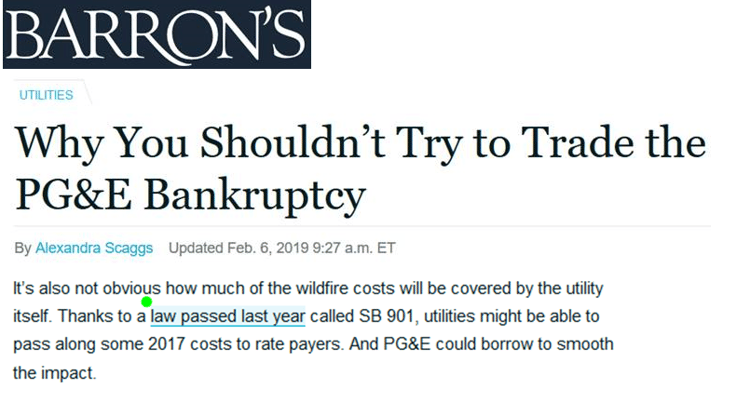 Feb 2019 - Here is a quick look at some of the recent media mentions clients have received for their insights and commentary published on JD Supra:
An article about California's SB 901 by Brad Kuhn at Nossaman was referenced/linked in BARRON'S, in the story Why You Shouldn't Try to Trade the PG&E Bankruptcy
An update by Georgina Whittington of WilmerHale on the UK's anti-money laundering and terrorist financing measures was excerpted/linked in Anti-Corruption Digest, a leading source for global risk & compliance related news, insights, and best practices
An update by Dilnaz Saleem of Baker Donelson on proposed changes to the H-1B immigration program was linked/referenced in a Business Insider India article on the topic: Trump May Have an Ugly Surprise for H-1B Visa Applicants
Analysis of new South Carolina real estate legislation by John Carroll at Nexsen Pruet was linked/referenced in a Charlotte Observer story on the subject: New SC Laws Go Into Effect on New Year's Day 2019
Analysis of the Department of Education's oversight of lead generators, by Alejandro Rettig y Martinez at Ballard Spahr, was excerpted/linked in Career Education Review
An article on Telemedicine in Rhode Island, by Leslie Parker and Michael D'Ippolito III at Adler Pollock, was linked/referenced in a piece on mHealth Intelligence: Telemedicine Licensure Compact is Now Live in Half the Country
An article about the International Trade Commission by Liz McKenzie of Jones Day was referenced/linked in a news digest on the World Trademark Review, an independent daily news and information service dedicated exclusively to reporting on trademark issues for in-house and private practitioners internationally.
An update on e-Verify considerations for employers, post-government shutdown, by Montserrat Miller at Arnall Golden Gregory, was excerpted/linked in The HR Advisor
An alert to do with measures to eliminate the pay gap between women and men in France, written by Laetitia de Pelet and Sabine Smith-Vidal at Morgan Lewis, was referenced/linked in a post on the topic by the HR Policy Association, the lead public policy organization of chief human resource officers representing the largest employers doing business in the United States and globally.
Commentary on a copyright case before the Supreme Court, by David Kluft at Foley Hoag, was referenced/link in an article on Plagiarism Today: 5 Copyright Stories to Watch in 2019
An update on renewable energy in Russia by Jennifer Josefson, Alexandra Rotar, and Stanislav Rzhaksenskiy at King & Spalding was referenced/linked in the article Is Russia Ready to Embrace Renewable Energy? on POWER TECHNOLOGY, a leading outlet covering the global energy industry.
*
This sampling of recent media visibility does not include the regular use of JD Supra clients as background sources when reporters and editors reach out directly for subject matter experts while researching their news stories. For more information, see JD Supra results: Media Attention.