June, 2018 - As part of our continual work to make it easy for readers to find your content, authors, and firm profile, we recently rolled out a major update to site-wide search on jdsupra.com. Specifically:
Increased speed. JD Supra search is now faster than it has even been at returning results for site visitors.
A focus on publications, firms, and authors. The most significant update, now search results are filtered to serve up matches not only on publications but also authors and firms. (You'll see this immediately in the drop-down, the next time you conduct a search on JD Supra.)
Date range filtering. Readers can also set specific date ranges on the search results page, choosing either to see only recent content on a topic or writing across wider timeframes.
We've received a good amount of positive feedback on this update from our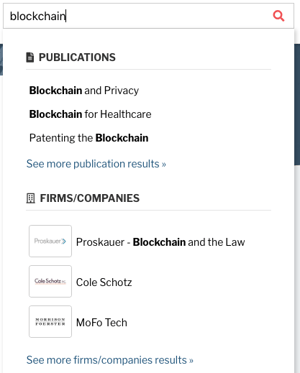 readers and so I wanted to make sure you optimized your JD Supra presence to take full advantage of the increased visibility.
Your Next Steps
To maximize discoverability in JD Supra search, log in and update your firm description. Make sure your summary covers your core offerings in clear language — and also confirm that your links (website, social, etc), and contact details are up to date. (Additionally, this is one more reason to focus on creating headlines that clearly articulate the topics covered in your writing!)
In short, make it easy for people to find you and contact or learn more about you. Log in and look for the Edit Profile link on your account management dashboard.
- Paul Ryplewski, VP Client Services at JD Supra