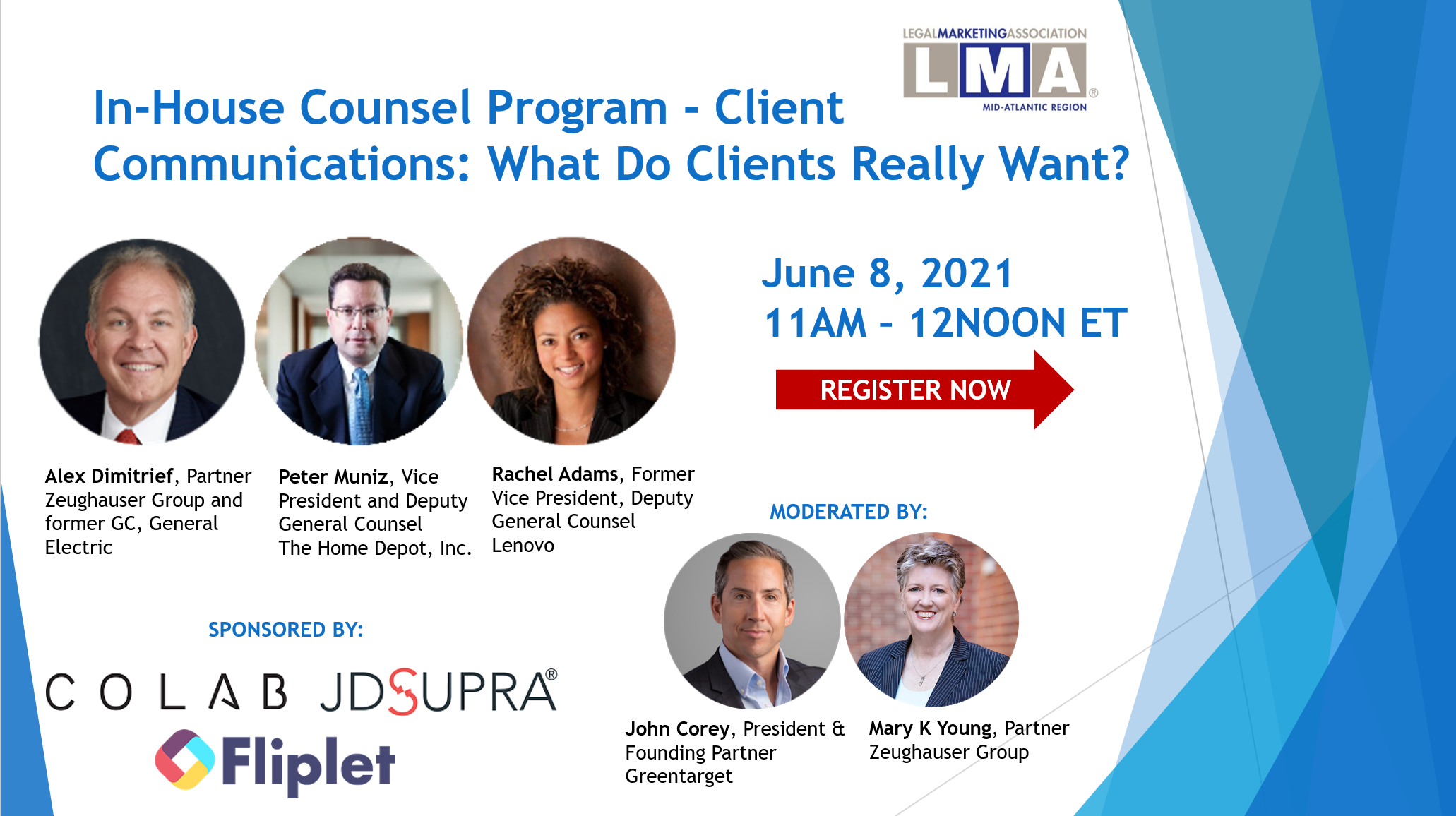 JD Supra had the pleasure of co-sponsoring a recent LMA Mid-Atlantic panel discussion with in-house lawyers titled Client Communications: What Do Clients Really Want?
Moderated by the inimitable Mary K. Young and John Corey, the program featured insights from panelists Rachel Adams (former VP, Deputy General Counsel, Lenovo), Peter Muñiz (VP and Deputy General Counsel, The Home Depot), and Alex Dimitrief (former GC, General Electric).
Here are three client communications takeaways I noted during the thoughtful and wide-ranging conversation:
1. Don't Say It's a Newsflash If It Isn't
This marching order came from Alex Dimitrief and resonates with a point we frequently make about adopting the essential role of law firm thought leadership: don't report the news; help your clients understand how the news impacts their lives and businesses ... and what they can do about it.
Alex used as example the fictional yet recognizable headline of a client alert that read, in essence, NEWSFLASH: SOMETHING EVERYONE KNOWS.
Your alerts are not news, let alone a newsflash. It is your insights about the news that provide new and useful information for your clients. Which leads to my second takeaway...
2. Help Me to Think Through My Issue
Peter Muñiz made the point when he said: "Be targeted. I don't need a case study. I can read the law." As my headline above suggests, Peter pointed out the real job of your thought leadership is to help him think through his issues, in a way that is "targeted, actionable, and consumable" (his words).
Indeed: focus on your clients' specific needs; help them understand what they should do next, keep it brief. And this last point about consumable isn't just a matter of brevity. As we have heard frequently from in-house readers: frame your insights in an understandable manner that enables GC readers to share your publications internally, with other members of their C suite, who aren't able to wade through legalese.
3. Involve Marketing
This third point came from Rachel Adams in the larger context of all client relations and relationships. As Rachel said, commenting on the past 14 months of turmoil: "We have changed; show us that you've changed, too."
The point: while lawyers know the law, CMOs and their teams are especially adept at so many of the other aspects of meaningful relationships, including the ability to communicate well and creatively identify and address client needs. This can be everything from helping with presentation skills to the editorial insights that go into creating effective client communications. I wrote a line in my notes here: let marketing help you with your titles. This would certainly help with Takeaway #1, above.
And, Of Course: Know My Business
My bonus takeaway comes from an overarching theme that was present throughout the entire program, one that we have heard articulated by GC on almost every panel of this nature. It is a point that I think infuses all three of my takeaways above — and was embodied by my colleague, Adrian Lurssen, in his opening remarks as co-sponsor of the program.
Talking about the intelligence/data on client need available via JD Supra, Adrian pointed out that you don't need data to understand that your clients care about COVID-19 legal ramifications right now. That's not a newsflash. However, following Peter's directive of being targeted and actionable, our data can help you to identify the specific needs and concerns of clients, around this issue and others, both broadly and in specific industries.
For example, as Adrian pointed out, right now, across all industries, employers want to know if they can require vaccines of their employees and under what circumstances (including religious objections). This is something that every firm with a labor & employment practice should be addressing. And then, focusing on specific industries, right now:
your clients in the Semiconductor sector want to know how to deal with USCIS biometrics delays for their workers;
clients in the Technology industry are particularly interested in what is necessary to comply with FFCRA leave requirements (a hot topic in many sectors, but especially Tech);
clients in Government Contracting want to know what to expect, going forward, regarding DCAA audits and investigations of relief fund usage.
These are just a few examples from Adrian's remarks about the power of JD Supra's reader data to identify and act upon client needs. If you have any questions about accessing such intelligence, get in touch. Happy to discuss how we can help you to support your clients in a targeted, actionable, and consumable way.
Thank you LMA Mid-Atlantic team (especially Jacqueline and Arthur) for such a terrific program.
*
Robin Oliver is Global Director of Business Development at JD Supra. Connect with Robin on LinkedIn.