In a digital age when Content is King, how do you create effective thought leadership that will get you noticed, read, and trusted by your ideal readers (clients, prospective clients, referral sources, media members, and anyone else who can aid your marketing and BD efforts)?
While we have written frequently on this oft-asked (and critically important) question, for this post I thought I'd let some of our clients answer it by highlighting examples of their smart editorial practices at work on JD Supra. To whit:
1. Include the Most Important Takeaway Up Front
There are, of course, a number of ways to do this and the team at Seyfarth has a habit of doing it well. Many of the firm's publications lead off with a "Seyfarth Synopsis" — sometimes a single sentence, sometimes a short paragraph, always articulating a key takeaway up front. (See examples here, here, and here.)

While this synopsis often simply includes the most salient news contained within an update (shown in examples above), it's not always limited to that. Note how in this article, the Seyfarth Synopsis is a mix of news and analysis of that news — a longer paragraph that still managers to present critical information up front.
Why does this matter so much? It helps busy people (in the habit of scanning digital walls of text) get to the point quickly, before you lose them.
The team at Jones Day also follows this strategy of underscoring the most salient points up front. See for example this article, which begins with a standalone takeaway at the top of the post, written in bold and capturing the news and its import: "Jury verdict underscores the necessity of coordinating trademark and design patent portfolios."
Also from Jones Day, note here how this publication begins with "In Short" and three opening paragraphs that articulate, in order: The Situation, The Result, and Looking Ahead. It's a terrific approach, an excellent formula for being useful in your writing: here's what happened, here's why it matters, here's what you should do about it.
And again, it's all up front.
2. Include Next Steps For Your Readers
For a number of reasons, this is an important element in effective thought leadership (beginning with the fact that, indeed, your in-house counsel readers frequently ask for it. See point #1 in this GC perspective on good writing.)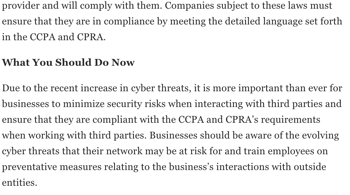 Such a practice requires you to consider the needs of a specific audience, which helps to focus your thoughts as you write. By addressing next steps, you also allow readers to feel, as they process your guidance, that they are part of the work. (They are able to say: "This was written for me.")
And, most importantly, when answering "Now what?" you help your work to become actionable.
See for example how attorney Shaia Araghi at Newmeyer Dillion ends her posts with What You Should Do Now — a frequent and smart element in all of her writing.
Sometimes it is no more than a paragraph, sometimes a bulleted list of important next steps (as shown here). Note also how Ms. Araghi uses bolded headlines throughout her posts, breaking up her text and making it easier to access and read as a result. Which leads to...
3. Include Visual Elements to Surface Key Points
My colleague Adrian Lurssen frequently says that online readers scan before they read.
Most are simply too busy, or pulled in too many other directions, to work at the slow task of answering: was this collection of dense text written for my benefit? Both practices mentioned above help to address this habit of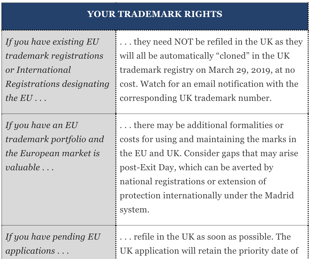 scanning. Another smart approach: incorporate visual elements.
See here, for example, how the team at McCarter & English not only uses headlines to break up copy, they also use pull quote graphics to highlight key takeaways. Most publishing platforms allow for the easy creation of text quotes — here, they pop on the page for their visual, graphical quality.
Another McCarter & English example of the power of visuals: see how key takeaways in this post are presented visually in two columns, clearly delineated, showing "If this..." scenarios on the left and "Then this..." results on the right.
Not all complex legal or regulatory (or, for that matter, corporate) issues are easily summed up in three paragraphs. However, no matter how complex the issues at hand, all thought leaders can and should consider these editorial habits to help cut through the noise and inevitable distractions readers face daily.
Your goal is to be useful; it starts with these important writing habits.
*
Paul Ryplewski is VP of Client Services at JD Supra