[The first in a weekly series of quick hits showing how JD Supra generates networking opportunities and media engagement for clients:]
Take your thought leadership to where your readers gather.
For clients on JD Supra, that means putting your firm's expertise in front of a diverse audience of influential readers whose engagement with your work can lead to all manner of visibility and opportunities. Here are three recent examples:
1. On LinkedIn, the Senior Counsel of the House Financial Services Committee in the U.S. House of Representatives shares a Patterson Belknap update on upcoming deadlines for cybersecurity regulations in New York. (When your timely analysis hits the mark, influential readers will help spread the word.)
*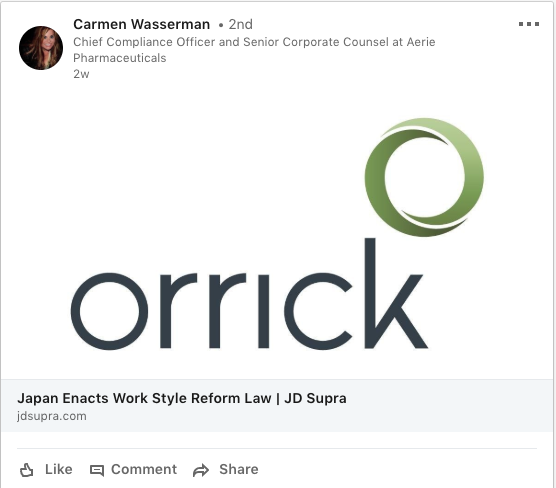 2. Also on LinkedIn, the Chief Compliance Officer and Senior Corporate Counsel of a publicly traded, clinical-stage pharmaceutical company shares Orrick's commentary on labor law reforms in Japan.
*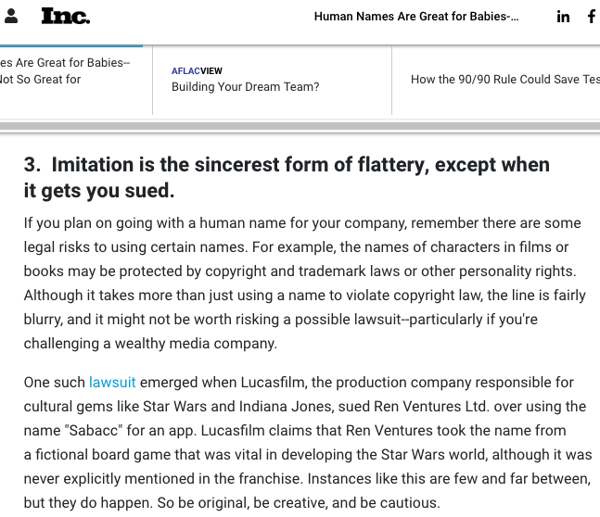 3. And finally, as shown above, Hogan Lovells earns a reference/link in an Inc. magazine article on the pitfalls of giving human names to companies. When addressing the legal implications of such a strategy, the Inc. piece links to Hogan Lovells' analysis of a lawsuit that serves as a perfect example of what could go wrong. (Make your insights available; reporters and writers are online looking.)
*