Dear JD Supra Community—
I am honored to announced this year's
JD Supra Readers' Choice Awards
, recognizing 26
firms and 235 authors (from among more than 50,000 who published on our platform in 2019) for the visibility and engagement their thought
leadership earned among our readers last year.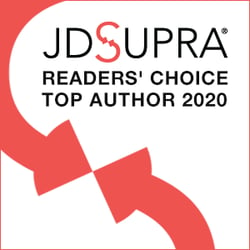 Already one of my favorite moments, I especially cherish issuing today's announcement: I hope the well-deserved recognition brightens the days of our friends, clients, partners, and authors scattered in isolation around the globe.
As in years past, these awards recognize authors and firms for their visibility in 26 popular JD Supra channels, including Healthcare, M&A, Product Liability, Real Estate, Finance & Banking, Life Sciences, Immigration, Patents, Compliance, Employer Liability, Insurance, Data Privacy, and others.
[Click to see the complete list of 2020 Readers' Choice categories and recipients.]
Categories can change year to year; if you'd like to see a particular focus next year, please let me know. I'd be happy to hear from you.
The data and intelligence upon which these annual awards are built is available to our clients via on-demand Beacon Insights dashboards. For more information on how your firm can use this data for your own business planning, click here.
With great pride in all of the excellent thought leadership on JD Supra, and the particular achievement of the authors and firms in these categories, I send you onward to JD Supra's 2020 Readers' Choice Awards.
I hope you are well and staying safe.
- Aviva Cuyler, JD Supra CEO