Recently, after a partner at Husch Blackwell received his monthly author analytics from JD Supra, he forwarded the email to Stephanie Dorssom, the firm's Digital Marketing Manager, and asked:
What, if anything, would you recommend regarding using these analytics? Advice welcome.
Stephanie shared with me her awesome reply:
Log into your JD Supra analytics to see the full list of monthly metrics

Review the list of people who read your work

Identify people you'd like to investigate further for BD opportunities

Review their LinkedIn profiles - send connection requests

After they accept, send a message saying you are happy to connect and mention a commonality between you to get the conversation started

Check to see if these contacts are in the database and if they know anyone else at the firm

If they're not in the DB, add them so they can receive future alerts and invitations

Keep writing :-)
Implied in this terrific list, but worth stating explicitly: you need not mention knowing that the person read your work when you reach out on LinkedIn. By now, everyone is used to receiving requests to connect; it is a given in the world of online networking.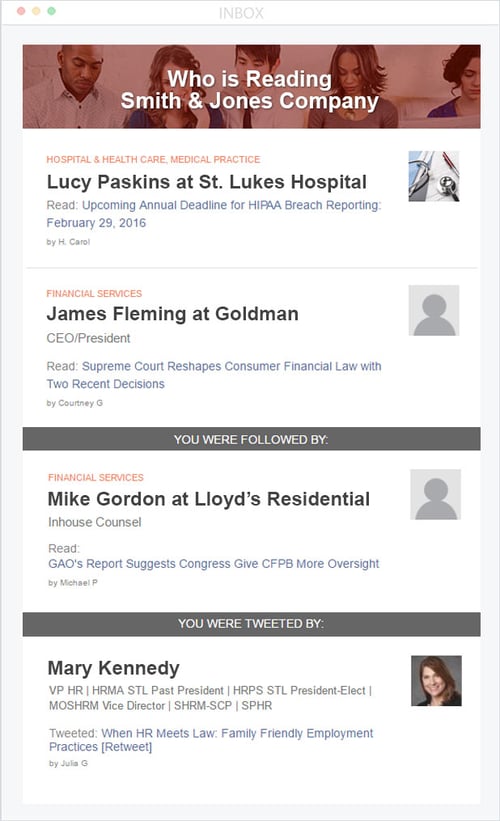 I recommend that all marketing and BD folks with a stake in your firm's thought leadership - as well as thought leaders themselves - log in and scan analytics a couple times a month.
Schedule 30 minutes in your calendar every other week, recurring. Title it: analytics and follow up. Spend the time doing the above. You'll be glad you did.
How do you use your analytics to create opportunities? Drop me a note and I'll include it as a future tip.
*
[This post appeared originally as a JD Supra Tip of the Week, emailed each Thursday morning by VP of client service, Paul Ryplewski. Clients: to receive Paul's tips by email, log into your account dashboard and select Tip of the Week on your Subscriptions page. ]