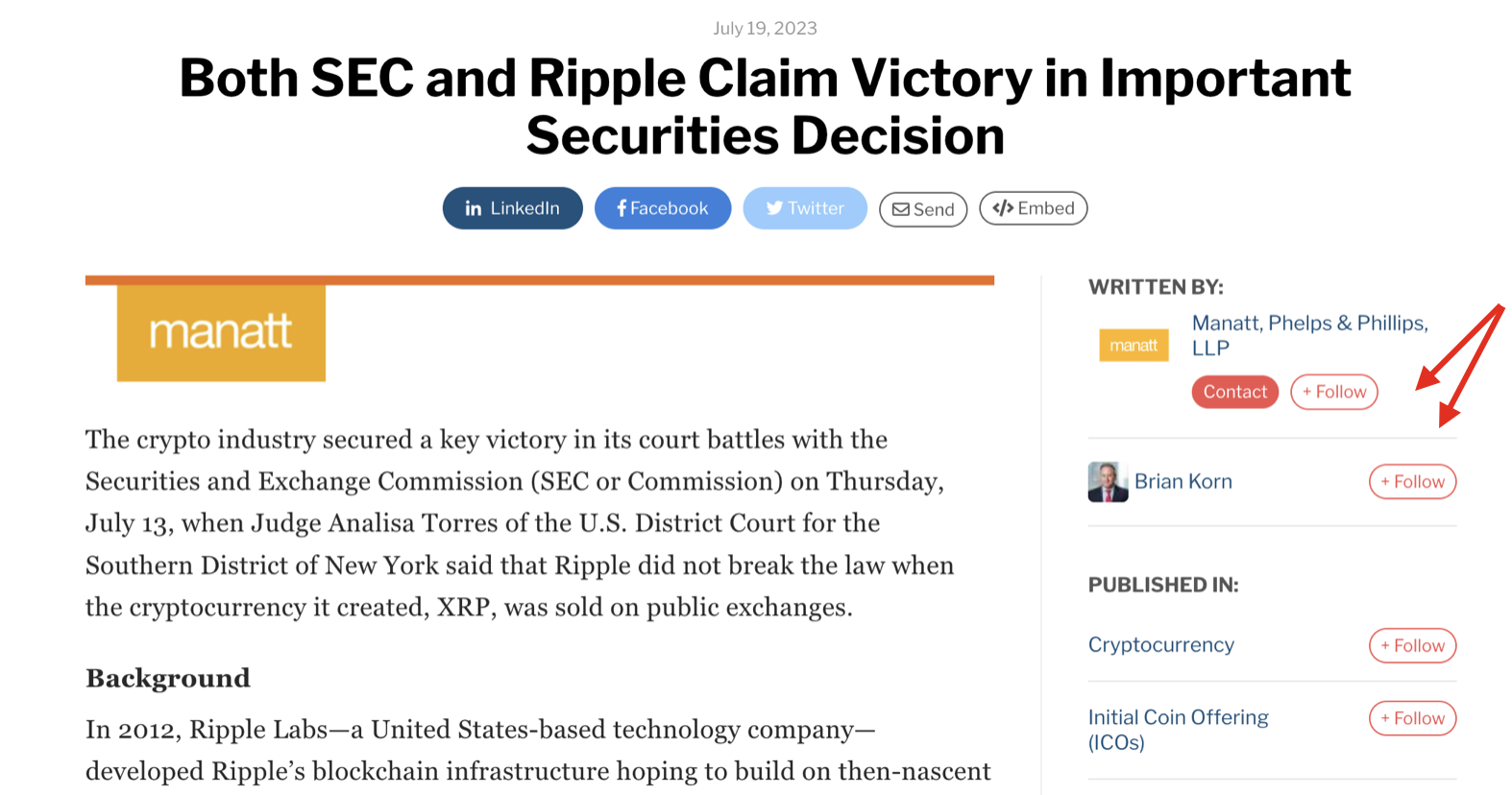 Followers are readers who have subscribed to receive your latest thought leadership via email digest as it is published on JD Supra.
They made this choice by clicking the red '+Follow' button available on your organization's profile page, on every one of your posts (text, audio, and video), and on every author page. [Shown above: the +Follow prompt on an article page, enabling a reader to follow either the firm or the author directly.]
Depending on which they opted to receive [work by individual author(s) or your entire organization's publications], as each new post is published on JD Supra, we include it in the next morning email digest, custom built by your subscriber.
Warm Leads, Interested In Your Insights & Guidance
Consider your JD Supra subscribers as warm leads who have taken the time to express an interest in receiving your thought leadership, on an ongoing basis, among the other, subject-based feeds they follow on JD Supra.
This is the beginning of a meaningful relationship in which a JD Supra reader/subscriber has opted to say: "Along with receiving new writing from multiple sources on cryptocurrency, or SEC enforcement actions, or intellectual property matters, or compliance, or tax law, or _______, I would also like to see all new work by this author, this organization. I find their insights especially valuable."
Every new follower of yours on JD Supra is a milestone, a victory by your thought leaders. A reader who has discovered your organization and authors through the course of navigating many varied sources on JD Supra has flagged you, in particular. "This is a good source, I'd like more from them, please."
Followers Are Included in Your Analytics
You can preview your list of Followers in your Business Development dashboard (scroll down to the 'Opportunity' report, look for the "Who is following you?" module therein) – and, by clicking "More" from here, you can see your entire list of all Followers within your main analytics dashboard [shown below].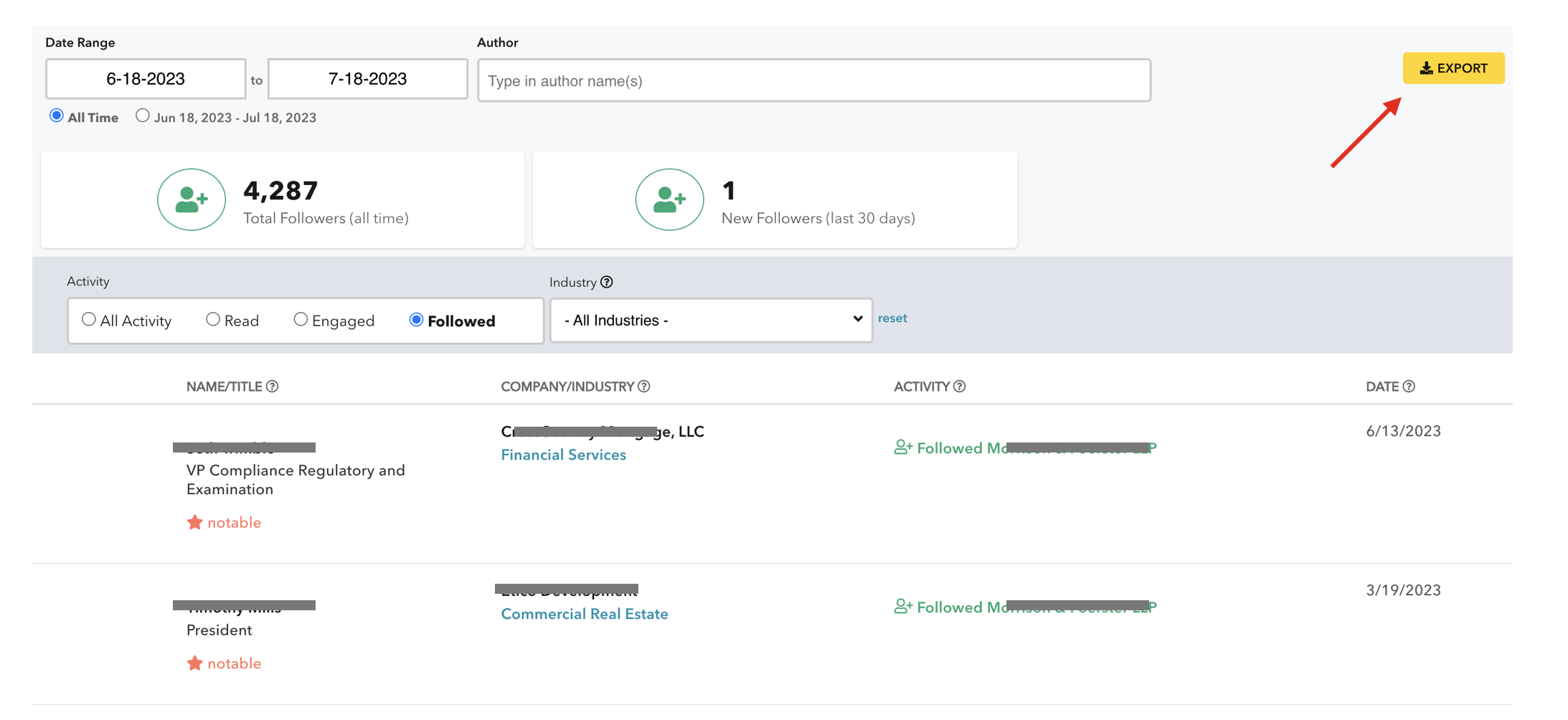 Your analytics report indicates followers by name/title, company/industry, and – in the 'Activity' column, whether or not they followed your organization or a specific author.
*Note, you are able to export your list of followers as an Excel file, for your records and internal dissemination.
How Can I Grow Our/My Followers?
A firm and/or individual authors gains new followers when their thought leadership is clear, focused, and valuable – and addresses the particular informational needs of a target reader. So, start by producing useful content that compels your readers to come back for more.
However, in the busy online landscape, where attention can be pulled in myriad directions, don't leave next steps to chance: ask for what you want.
That is to say, firms and authors with badges have more followers:
As a marketer/BD professional:
include a badge to your organization's JD Supra portfolio on your website and/or blog(s).
include your authors' badges on their website BIO pages/profiles.
As an author:
include a badge to your JD Supra portfolio in your email signature, or on the blog you write at your firm, or (if not done by marketing for all authors), on your website BIO page.
[ Customize and grab your JD Supra badge here.]


No matter your role, in all of the other places you promote followers and subscribers, be sure to include a call to action to receive your latest publications on JD Supra, with relevant link/badge.

And, of course, log into your analytics regularly for the rich, accompanying metrics, showing who has subscribed to receive your new thought leadership, and how they are engaging with it.

(ps. once you have badges in place, be sure to let us know so we can feature your organization and further promote you to followers!)