There are two ways to edit your content: the easy way, and the easier way.
The easier way: Simply send your edits (or link to the edited version of your content) to your JD Supra content specialist and we'll take it of it from there. Note that you will need to contact us to make the edits if your article is in html and you need to edit the body of the article, or the author attribution.
Alternatively: If your changes involve the title, summary, or replacing a pdf or multi-media file, you have the option to make the edits yourself. Simply:
2) Click "Edit" under Content in the left navigation of your account management page.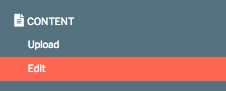 3) Click the "edit" link next to the post you'd like to edit.

4) Edit any of the available fields and click continue.
5) Select related content from the list of your other content and click to save.

Related FAQ: